I'm pretty lazy, so it is pretty rare when I make a meal that covers the whole plate.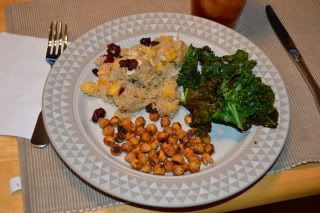 The kale chips I think I have posted before. Simple toss kale with olive oil, salt, and pepper, and roast at 400 for about 10 minutes. They come out pretty crispy.
I had a butternut squash that I had bought for soup but never used. Instead I used it to make
Fall Quinoa with Roasted Butternut and Onions
from The Lively Kitchen. It was pretty good. The onions really make this dish. I was worried that the cinnamon would be overwhelming, but it really wasn't.
The real hit of the meal were the chickpeas.
Pumpkin spice roasted chickpeas
to be precise. Got these from Peas and Thank You. So good! AND they even destroyed one of my favorite pans (use parchment paper next time) and I am not even made. Can't wait to made these again.