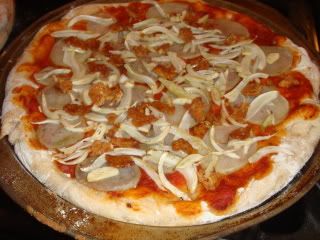 We have a weekly pizza night at our house. I use my bread machine to make the dough and then make two pizzas: one cheese for the kids (and usually Mark) and one vegan for me. I love pizza night because even though I have to cook dinner, it is a meal I don't have to think about and the kids like. I have tried a variety of different vegan pizzas, but made one recently that turned out really great. It is another one from Vegan with a Vengence.
Potato, Fennel, and Tempeh Bacon Pizza
Roll out pizza dough. Top with thin layer of tomato sauce of your choice. On top of the sauce, lay down a layer of THINLY sliced potatoes. Sprinkle sliced fennel on top of the potatoes and crumble a piece of tempeh bacon that everyone has in their fridge. Bake until potatoes are done.
Notes: The way that I usually make my pizza is I cook the dough by itself at 400-425for 5 minutes, then top, then bake again. The key are the potatoes. They need to be in the oven for at least 15 minutes at this temp. You may need to play around with the temp/time to get one that works for you.
Note2: The orginaly recipe calls for tempeh sausage, but I didn't have that in my fridge, I had bacon.